How to choose the right size of baby diapers ?
This is a very subjective question to be answered. Factors like the waist line of the baby and the weight of the baby are to be considered. The amount of fluids your baby would eliminate is also a decision making factor. There is no hard and fast rule but as a thumb rule the following table can be taken as a reference.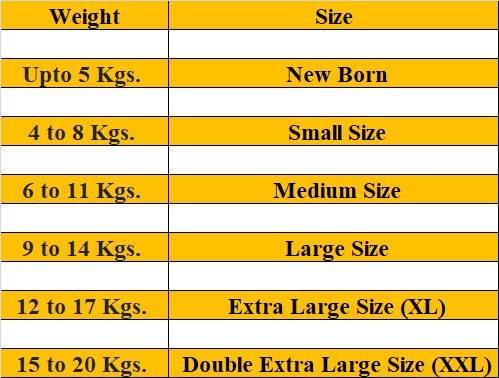 If you have a new-born baby and is weighing anywhere upto 5 kilograms the best size would be the new born size as given in the above table. If your baby weighs anywhere between 4 to 8 kilograms the optimum size you could choose for is the Small Size Diapers. If your baby is around 6 to 11 kilograms you could either go for the small size or the medium size diapers and here is where your judgement is required with regard to the amount of fluid that would be collected in the diaper. If your baby or toddler weighs anywhere between 9 to 14 kilograms then you obviously would have to choose the large sized diapers. As you could see the remaining sizes are the Extra Large and the Double Extra Large diapers for toddlers weighing 12 to 17 kilograms and 15 to 20 kilograms respectively.
Also please bear in mind the diapers should neither be looking awkward on your little ones. The most important factor is that the babies should not be feeling uncomfortable. Just remember that if your little ones are newly born and their movements would be very limited so as to cause the diaper to get loosened up a little compromise on the size is understandable and acceptable. But on the other hand if your toddler is a little hyper then it is pointless to get a diaper of a bigger size for reasons now well known to you. Too small a size could cause grip marks near and around the waist line of the baby. Grip marks are not altogether bad except it causes extreme discomfort for the baby. Cute Seal Diapers, Best Diapers and other baby diapers that are available in our store are of premium quality designed with the comfort of the baby in mind. They are designed with wide waist wraps for better and soft grip around your baby's waist line so as to not cause any discomfort for your baby. Buy diapers online from bestdiapers.in and let your little ones enjoy the comfort.
---